Unveilings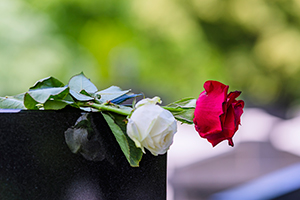 In Jewish tradition, a tombstone is not placed on the grave at the moment of burial, but rather after a period of 11 months following the death of a loved one. In some cases, the headstone may be placed as early as 30 days after burial. The purpose of the stone is to enable friends and relatives to identify the place of burial so they may honour the memory of the deceased.
The marker usually includes: the English and Hebrew names of the deceased, the dates of birth and death in English and Hebrew, and the relationship to other family members (such as father/mother, husband/wife, grandfather/grandmother, and sister/ brother). One often finds the Hebrew letters pay nun, standing for "po nikbar(ah), here is buried," and the letters tav, nun, tzadee, bet, hay, standing for the phrase "May his/her soul be bound up in the bond of eternal life."
The unveiling ceremony itself consists of removing a cloth covering the headstone as well as psalms, readings, the recitation of the El Maleh Rahamim prayer and the Mourner's Prayer - the Kaddish.
It is customary, before leaving the grave site, to place a small stone on the marker to indicate that someone has visited the grave.
Some families chose to host a reception in a private home or at the synagogue following the unveiling ceremony.
Our synagogue and catering department would be to assist with these arrangements either on site or though take-out services.
A PDF of the Unveiling Booklet used for the service can be downloaded here.
Reach out to us — we're here to help!
Plan an Unveiling
Estelle Raber
Life Cycle Director
204-975-3484
estelle@szwinnipeg.ca
Tue, 5 December 2023 22 Kislev 5784